Full House for Steinbeck Program at Marquette's Peacemaking Center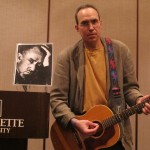 On the night of March 25, 2013, one hundred people filled a ballroom at Marquette University in Paul's native Milwaukee to catch his 90-minute program "Scribe of Social Conscience: Steinbeck Plus Seventy-Five," sponsored by the school's Center for Peacemaking.
Three-quarters of a century after the publication of "the great American short novel" Of Mice and Men (1937) and the epic Depression-era protest novel The Grapes of Wrath (1939), Paul performed dramatic readings from (and provided commentary on) both of these masterpieces, plus three other John Steinbeck books—East of Eden, Cannery Row, and Travels with Charley: In Search of America—emphasizing the author's status as a master chronicler of, and avid advocate for, "the have-nots." Says Paul, "With his unflagging insistence that each of us is, indeed must be, our brothers' and our sisters' keepers, Steinbeck 75 years later could hardly be more timely … or more necessary."
The standing-room-only crowd seemed to agree — as did the local media: in the ramp-up to the program, Paul was interviewed for an 18-minute segment on Milwaukee Public Radio and featured in both the Milwaukee Journal-Sentinel and the Milwaukee Shepherd-Express, while the city's Neighborhood News Service provided post-facto coverage.
Late this summer, the program will head north as part of the Emerson Literary Series of the Unitarian-Universalist Fellowship of Door County (WI), at 3 pm on Sat., Aug. 31 (info: http://uufdc.org/).
Says Paul, "I've been a Steinbeck fan since age 13, both for his craft and for his commitment to social justice, and I couldn't be prouder to now be serving, on occasion, as his 'ambassador.'"